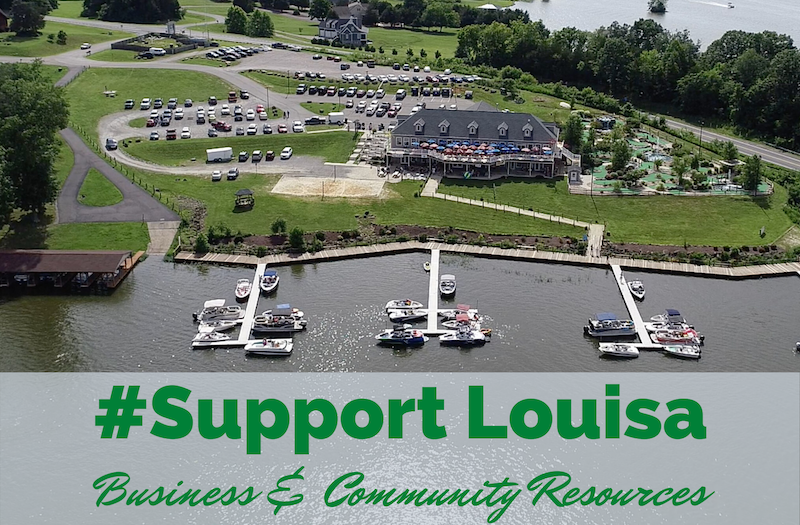 Now more than ever,
we are united.
Find support for  your business, your family and our community.
Virginia Resources
Virginia Tourism Corporation
Travel Research | CARES Act Information | Additional CARES Act Resources | General Business Assistance | Upcoming Webinars | Archived Webinars/Podcasts | Arts Organizations |  Meeting Planner and Meeting Site | Group Tour Industry | Lodging | Main Street | Museums | Restaurants | Restaurants, Employee Assistance/Brewers/Distillers | Wineries | Local Assistance Programs | Federal Government
National Resources
US Small Business Administration
U.S. Chamber
Grants, Loans, and Funding
• Louisa County Resource Council feeds thousands of Louisa residents each month under a number of different programs. Learn more here. 
• Louisa Community Emergency Fund (LCEF) is offering financial assistance for housing payments to Louisa County residents who are in a current crisis, including lost jobs. Call (540) 894-8440 and leave a message.
• Community Emergency Response Fund is offering financial assistants to residents of local counties including Louisa. Call (434) 234-4490.
• Louisa County Sheriff's Office is providing prescription drug pick-up and delivery service. Once your prescription is filled and ready for pick up, call them at (540) 967-1234.
• Jefferson Area Board for Aging (JABA) operates a Senior Helpline, connecting older adults and their caregivers with supports to help them age in place, including home care, long-term care ombudsman, home-delivered meals and many other resources. Affordable Care Act (ACA) insurance counseling is available to individuals of all ages, including those furloughed due to COVID-19. 434.817.5253

VOLUNTEER OR DONATE WITH A LOUISA ORGANIZATION