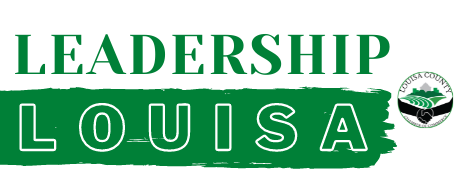 Building Leaders. Growing Community.
Leadership Louisa fosters leadership potential in the local community to ensure positive growth and development of the Louisa County Region.
Leadership Louisa encourages participants to develop the skills and access resources needed to provide the leadership to address community needs.
Leadership Louisa enhances understanding of the complex issues facing the Louisa community through:
Educational programs designed to broaden knowledge of the area, and increase awareness of community processes, programs and problems.
Exposure to local government, economic, social and political organizations, as well as the local education system, businesses and non-profit organizations.
Introductions to community leaders and local decision makers.
2022 Leadership Louisa Class
Sarah Brooks, Dominion Energy
Rebecca Burtram, Hantzmon Wiebel, LLP
Cody Clarke, Rappahannock Electric Cooperative
Richard Embry, Chiles Enterprises
Jennifer Garrett, Chiles Enterprises
Stephen Judy, Lake Anna Nursery
Naomi Luehrmann, Grace Integral, LLC
Daphne MacDougall, Shaw MacDougall Realtors at Joyner Fine Properties
Liz Nelson, Town of Louisa
Ophelia Payne, Louisa County Public Library
2022 Leadership Louisa Committee